Planning for and coping with bereavement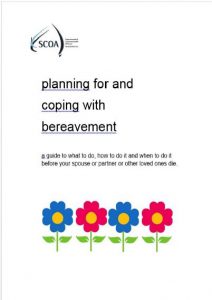 The Bereavement Book has been prepared in consultation with the Commonwealth Superannuation Corporation and the Public Trustee and Guardian in the ACT.
The booklet contains information about some things you might want to think about to make sure your affairs are well organised, so that those who survive you are well equipped to follow your wishes at a most difficult time.  It includes a form where you can list all your assets, passwords, bank accounts, car registration details, insurance details, names of next of kin as well as your superannuation details and any special preferences regarding your funeral and much, much more.
In addition to the information in the publication, click here for some further useful websites.Cost
The Bereavement Book is available to SCOA Australia members free of charge, however, members are asked to contribute $5 towards the cost of postage. Extra copies can be purchased for $15.00 a copy including postage.
Non-members can purchase the publication for $15 including postage.
Please download and complete the order form below and post it to SCOA Australia, PO Box 107, MAWSON, ACT 2607, or call us on 02 6286 7977.
If you need to complete another Personal Information Record form, or update the information, click on the link below to download the Personal Record form as a Word document.